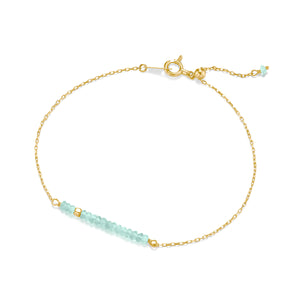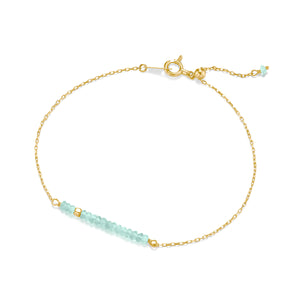 This Manifestation Apatite Bracelet with Adjustable chain will be a great addition to your everyday style and add personality to you.
Apatite stone is related to service and to humanitarian pursuits. Apatite is attuned to the future, yet connects to past lives. It stimulates the development of our psychic gifts and spiritual attunement, deepening meditation and aiding communication and self-expression on all levels.
With Adjustable Chain you don't need to worry about the correct length, you can adjust it yourself and it will perfectly suit your wrist size. 
Unique diamond cut gold chain will attract the attention of everyone around you! 
We use a unique technique of silicon ball to make sure you could smoothly adjust the length of the diamond cut gold chain. Be creative, be unique! Made in Japan.
You can add a beautiful apatite necklace to accomplish this stunning look. 
Total 1 Gold Diamond Cut Bead
Total 16 Natural Apatite Beads 
Total 10K Gold Weight 0.707 gram
Diamond-Cut Gold Adjustable Chain Length 18 cm 
The Apatite Bracelet can be customised especially for you in Rose Colour Gold and in 18K Gold.
Please kindly note, its fine jewellery which requires gentle care. Please read Diamond Care instruction in order your desire jewels shine FOREVER. 
Please send email to info@kristinatrudiamonds.com for any enquiry.